---
---
Rainsford Island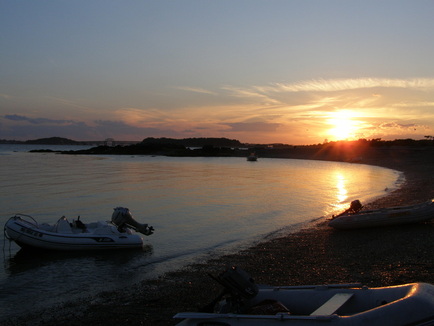 Sunset on Rainsford
_
Rainsford Island is a 50-foot drumlin, natural coves facing south and southwest, separated by rock outcropping Pebbles and rock beach, shell deposits. In about 1636, Edward Rainsford was granted the island for farm use. In 1737, a quarantine hospital was moved to Rainsford Island from Spectacle Island and operated there until 1852. During this time, Rainsford Island was a popular summer resort.
In 1832 a small-pox hospital was built (a stone Greek-temple design), and many victims of infectious diseases were buried on the island in. In about 1852, the Commonwealth of Massachusetts took possession of the island and established an almshouse. The state abandoned the site in about 1866, and the City converted the island into a poorhouse. Civil War Veterans lived there until 1882, when they were transferred to a Soldiers Home on the mainland. Beginning in 1882, female paupers were sent to Rainsford. Later it was a facility for boys: the Suffolk School for Boys. In 1920, the school was closed. Now only foundation holes remain visible. (from the
City of Boston
)
For 2012 visit a special display next to the Hospital Room at Georges Island about Rainsford Island!
for more information check these web sites:
WIKIPEDIA RAINSFORD ISLAND
RAINSFORD ISLAND ARCHEOLOGICAL SURVEY
NATIONAL PARK SERVICE
WATD 95.9 Radio Interviews
Part 1 –
Rainsford Island
- 2011 Boston Harbor Islands Series
Part 2 -
Rainsford Island
- 2011 Boston Harbor Islands Series
Part 3 –
Rainsford Island
- 2011 Boston Harbor Islands Series
---