Gallops Island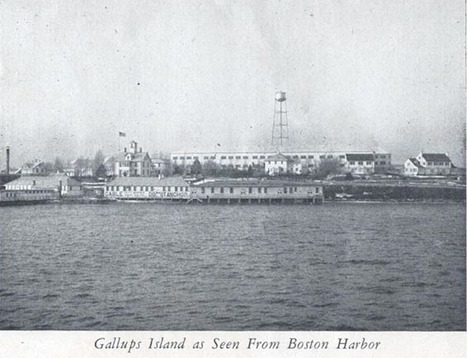 CURRENTLY CLOSED TO THE PUBLIC
Gallops Island is closed to visitors during 2002. Portions of Gallops Island were closed in 2000 due to the presence of asbestos-containing building debris. The DCR has determined that the island will be closed to the public until visitors can be welcomed back safely.
Source of the information below:
A Brief History of Gallop's Island, Boston Harbor
Chronology of Gallop's Island in Boston Harbor: 1629- 1975
This island served as Boston's final quarantine station, operating from 1867 to 1937 when it was closed by the U.S. Public Health Service. One of the least known and least documented qurantine islands on the eastern seaboard, it played a major role in the halt of communicable diseases brought to Boston by millions of European immigrants seeking the promised land. Over 10,000 souls were quarantined on Gallop's Island and hundreds never left, their remains buried on its desolate, wind blown northern shores. After nearly eight years of research on the island's history, this blog site summarizes the major public health events that transpired over its recent history.
Pre-Puritan Era
American Indians used the island for farming, fishing, and hunting before John Gallop inhabited the island.
1629Standish Explores Gallop's Island
: Captain Miles Standish (and others) explored Gallops Island.
1633John Gallop Becomes First Puritan Island Settler
: John Gallop (Harbor Pilot) farmed the island after arriving on the ship "Griffin." Sold produce to passing ships that were eager for fresh produce. He also had a house and a lot in Boston which he occupied alternately with his island house.
1634John Gallop Joins the First Church of Boston
:[1] John joins the first Church of Boston on January 5, 1634 and was made a freeman the following April. John Gallop had four children Joan, John, Samuel and Nathaniel.
1636Nix' Mate a Pasture Land
: Nix's Mate granted to John Gallop for use as a pasture.
1649/1650Gallop's Island Valued at 12 Pounds
: John Gallop dies in February 1649. Island valued at 12 pounds as well as holdings on Nix's Mate and Long Island. His wife survives him living until October 27, 1655. His estate was valued at over 311 pounds.
1669Mr. Rock Buys Gallop's Island
: Joseph Rock purchases Edward Tyng's parcels on Gallop's, Nix's Mate and Long Island.
1683

Rock sells Island to Edward Bromfield
1689
Gallop's Island and Nix's Mate are the Town Execution Grounds
: Tom Pound and Thomas Harkins hung on Nix's Mate.
17??
Partners Buy the Island
: Elisha Levitt and James Bracket purchase Gallop's Island with Levitt allegedly taking sole possession.
1724 & 1726
Nix's Mate is Boston's Execution Grounds
: Pirates are executed and buried on Nix's Mate, a small island immediately to the west of Gallop's Island.
1775Gallop's Island is uninhabited
: DeBarres chart of Boston harbor does not include any dwellings on Gallop's Island.
1778
French Use Gallop's Island as Revetment in Revolutionary War
: French forces erect earthworks upon Gallop's Island to defend their fleet anchored in the harbor.
1782French Hold Gallop's Island
: French troops re-occupy the earthworks on Gallop's Island.
1786
Island is Sold after the Revolutionary War
: James Brackett sells one half of Gallop's island to Elisha Levitt of Hingham, MA (will of April 24, 1786 but recorded April 21, 1789)
1788Island Inheritance
: Levitt gives half of Gallop's Island to his grandson Charles Rice (son of his daughter Muriel Rice) but he died before age 21 so it goes to Caleb Rice.
1812Island Sold Again for $1,630 Dollars
: Caleb Rice inherits Gallops Island and then sells the island to Lemuel Brackett for $1,630 (transacted on April 1, 1812 and recorded June 30, 1818).
1814Peter Newcomb Buys Gallop's Island
: Lemuel Brackett sells the eastern half of Gallops Island to Peter Newcomb for $815 (recorded June 30, 1816)
1819Newcomb Takes Ownership
: Lemuel Brackett sells the remainder of Gallop's Island to Peter Newcomb for $1,000 (recorded September 23, 1826)
1822
Estimated date and construction on Nix's Mate.
1827Gallop's Island Bluff is eliminated for Strategic Military Reasons
: Federal government appropriates $2,429.51 to cut down Gallop's Island West head so as to eliminate the bluff's command of the proposed Fort Warren compound. The French earthworks are believed to be eradicated by this operation.
1833
Margaret Newcomb Runs a Harbor Restaurant
: Peter Newcomb dies on April 22, 1833 and his wife Margaret, subsequently opens an eatery for which "Newcomb's Island" is heavily frequented in the summer.
1847Schooner Fire Near Gallop's Island
: The schooner "Nun" a lime carrier from Thomaston Maine burns to the water line at Gallop's Island.
1852Magaret Newcomb Dies:
Margaret Newcomb dies on April 21, 1852 and her son Charles is granted administration of the estate on May 17, 1852.
1852Paupers Held on Gallop's Island
: Boston uses Gallop's Island for housing the city's paupers.
1860
City Buys Gallop's Island
: Charles Newcomb sells Gallop's Island to city of Boston for $6,500 on May 19, 1860 (recorded May 21, 1860).
1863Gallop's Island Leased out for a Civil War Output
: The City of Boston leases Gallop's Island to the federal government. During the war it held a wide assortment of buildings including; twenty Civil War barracks each having a cook house; six sets of officers quarters; one headquarters building; a commissary; a storehouse; stables; hospital; main guard house and a wharf based guard-shack; an "old house" with associated officer's dining room; two shore-side/piling raised sinks; one land based privy; four wells; a church; and a library.
The military used Gallop's Island for training replacement troops and drafted troops when necessary to fill out existing units. Troops were offered a monetary bounty to entice their enlistment. Some would sign on, take the money and desert. This was known as "bounty jumping." At the end of the Civil War, the island was used as de-commissioning deport for units (the Massachusetts 54th Infantry (colored).
1866
Mayor Lincoln Declares Gallop's Island the City's Quarantine Station
: On June 1, 1866, Mayor Lincoln approved a quarantine ordinance making Gallop's Island the quarantine station for the city of Boston.
1867
City Authorizes Federal Government to Fix Island Erosion
: City grants rights to federal government to fix the seawall on Gallop's Island on December 4, 1867.
1868-1870
Granite Sea Wall Built to Protect Island
: After years of unregulated removal of sand and gravel from Gallop's Island, the federal government constructs a granite seawall on the North and West sides of the island.
1872-73
Smallpox Cases moved to Gallop's Island
: Boston City Council ships smallpox cases to Gallops Island beginning in September 1872 and lasting until April 1873. Gallop's Island was the only place patients were sent in the fall of 1872 until two new hospitals could be created and opened in January 1873.
1873
Dedicated Cholera and Yellow Fever Hospitals Built
: the newly created three member Board of Health (Alonzo Boardman,
Samuel Durgin
and Albert Whiting) fits up two buildings for cholera and yellow fever in the fall of 1873. The Board of Health also purchased tents in case of a larger outbreak. The Board also provided funds for a new barn, built in October 1873.
1874
Gallop's Island Quarantine Boat Given a New Propeller
: During the spring, the steamer Samuel Little fitted with a new propeller and new heater.
1875
Island is relatively free of Disease
: Gallop's Island hospital had no quarantinable diseases for a 23 month period following the smallpox epidemic of 1873. Quarantine staff complete a boat house, located on the eastside of the wharf.
Dr. Fisher resigns as port physician on September 15th.
1876
Quarantine Staff Try to Live Self Sufficiently
: With help from prisoners, a cellar is built under the barn as a place to store produce. The island had one horse, two oxen, two cows and a heifer. Captain Ranlett constructs a 35 by 18 foot building for use as a carpentry, blacksmith and paint shop.
1877
Quarantine Steamer Modernized
: Quarantine steamer undergoes several repairs including raising the pilot house to create space underneath for a cook and dining room.
1878
Yellow Fever Hospital Completed and Island Absorbs City's Night Soil
: A hospital building for yellow fever and ship fever patients is constructed. A large tank is constructed to store Boston's street sweepings and night soil. The tank is 65 feet long by 38 feet wide and 5 feet deep. Filth was used to fertilize the pastures and fields on the island.
1879
New Smallpox Hospital Constructed
: The old smallpox hospital was torn down (located in an old barrack). The new building is 65 by 20 feet and contains four wards each with space for 10 to 12 beds. The hospital includes a fumigating room and medical closets. During the winter the "Samuel Little" is thoroughly overhauled.
1880
Explosion Aboard the Quarantine Vessel
: On March 15th the Samuel Little's engine blew a rod and the resulting explosion injured the engineer William H. Preston causing a severe cut to his forehead. The steamer was repaired and given a new smoke stack
1881
Board of Health Extends Quarantine Season
: Board of Health begins quarantine season as of May 15th (not June 1st) because of an unusual prevalence of smallpox in many foreign ports. The port physicians warns that the average passage from Europe to America is far less than the 14 day incubation period of smallpox, posing a danger to America.
1882
Board Requires Bills of Health
: Board of Health in conformity to national quarantine laws requires bills of health for vessels arriving at Gallop's Island. All person not vaccinated are required to receive it or face a quarantine of observation effective January 7, 1882.
1883
Prison Labor Used to Build a New Dock
: Steamer Samuel Little used for added duties of towing bath houses for the bathing department thereby reducing the city's operating costs. In July a vessel arrives from Egypt with a cargo of rags and paper that requires disinfection due to the presence of cholera in Egypt. A new storehouse is built with dimensions of 100 by 40 feet and 14 feet high. In addition, prison labor built a new 100 foot wharf with a 12 foot width. The facility costs about $7,000.
1884
Gallop's Island Establishes Routine Disinfection Program
: Under the direction of
Dr. Samuel Durgin
, the disinfection program for goods employs six men, three horses and the necessary wagons.
1885
Quarantine Vessel Retrofitted for High Temperature Steam Disinfection
: Steamer out of commission for 5 weeks in November and December. A super-heater added to the boiler of the steamer to allow it to have steam at high enough temperatures for disinfecting purposes.
1886
Board of Health Buys a New Quarantine Vessel for Gallop's Island
: Quarantine steamer "Relief" broke adrift from the moorings on November 2nd and its hull wrecked. The number of vessel inspections Gallop's Island doubles due to smallpox prevalence in the British Provinces. Steamer Vigilant built and placed in service for $17,500. Port Physician warns of erosion caused by storms along areas unprotected by sea walls.
1886
Massive Influx of Immigrants Pass Through Quarantine Inspection
: A total of 46,711 emigrants pass through inspection the largest number in the city history.
1888
Quarantine against Cuba starts on April 6th:
Disinfection of baggage from Florida due to Yellow fever starting on August 16th.
Two brick cesspools built for each hospital with 2,000 gallon capacities.
1889
Federal Government Extends Sea Wall
: Sea wall extended 300 feet by federal government during the summer months.
1890
Board of Health Orders a Large Row Boat for Contingencies
: Large row boat built to do the boarding in case Vigilant out of commission.
1891
Quarantine Station Gets Extensive Use
: The Board of Health treats a total of 202 persons in the quarantine hospital – more than in any of the previous 10 years. Port Physician recommends a new building dedicated to those undergoing quarantine of observation only.
Federal government extends seawall 200 feet on southward side of island. Board of health adds 60 additional feet of seawall to protect the smallpox hospital.
1892
New Buildings for Quarantines of Observation
: Two buildings, each capable of holding 100 beds have been erected on level ground at the head of the wharf to be used for quarantines of observation.
Bath house built with 28 bathrooms and fitted with set tubs and hot and cold water.
A total of six polling booths moved to the island each capable of accommodating 20 persons.
City water finally reaches Gallop's Island via Long Island.
The Vigilant is fitted with a new propeller and a double smoke stack.
Hyland Smith Overseer of the Island resigns on February 1st after 12 years of service.
1893
Gallop's Creates its First Bath House to Disinfect Passengers
: At the urging of Mayor Matthews, the Board of Health creates a new bath house. It is used for the first time on April 1st. Water main to the island broke and new connection to a main in Fort Warren is established.
1894
Experimental Anti-Toxin Remedy Developed on Gallop's Island
: Five horses are brought to the island on December 25th. Board of Health staff use the horses to prepare the new remedy, anti-toxin. Stalls are built for the five horses in the barn. In addition, the quarantine staff fit up the fever hospital with a special room for guinea pigs used to test the anti-toxin. Water main to the island is still in need of repair.
1895
Anti-Toxin Experiment Results in Death of Horses
: The Board of health staff immunize the six horses on the island. Five more horses are brought to the island but two die from the injections. New 40 by 30 foot building built for rearing guinea pigs, a bleeding room and a lab. A 125 foot extension of the federal government seawall is added toward the wharf using prison labor.
1896
Prison Laborers Complete Sea Wall
: Seawall work is completed using prison labor. Coal stoves replaced with hot water and hot air furnace in the officer's dwelling house.
1897
Quarantine Boat Repaired
: Steamer Vigilant thoroughly repaired and painted in the spring.
1898
Board of Health Discontinues the Anti-Toxin Experiment
: Production of anti-toxin discontinued in April and the horses turned over to the State Board of Health.
The Vigilant receives a new boiler.
1914
Over 200 Smallpox Victims Lie Interred on the Island
: Before sale of the property to the Public Health Service, the City determined that over 200 victims of smallpox were buried on the islands; eastern shores.
1915Federal Government Takes over Gallop's Island Quarantine Station
: Boston turns over day to day management of quarantine to the Public Health Service effective July 1st.
1916
Public Health Service Begins Massive Expansion of Quarantine Station
: Federal government purchases Gallop's Island for $150.000 and assumes responsibility for all quarantine operations. Over the next ten years, the USPHS invests hundreds of thousands of dollars into expanded and improved facilities. A total of 20 buildings were constructed between 1917 and 1936.
1917Island Used as in Internment Camp for Germans
: Gallop's Island used during World War I as an internment station for German merchant marines.
1918Public Health Service Experiments with Navy Sailors on Gallop's Island
: Navy sailors used in a Public Health Service sponsored experiment aimed at determining the communicability of Spanish Flu. Experiment ends when Surgeon Currie dies of Spanish Flu on December 23rd.
1919Continued Experimentation with Navy Sailors
: Public Health commences second round of experimentation on the communicability of Spanish Flu. Results are inconclusive for most experiments.
1937Public Health Service Closes Quarantine Station
: Quarantine hospital closed and moved to Boston. Public Health Service places island in a caretaker status.
1939Training Station Commissioned
: U.S. Maritime Service Training Station commissioned on Gallop's Island on November 20th.
1940Island returned to the Public Health Service in February:
In June the U.S. Maritime Radio School opened.
1941

The Radio School was capable of training 1,000 troops.
1949Spectacular Blaze Destroys Gallop's Island Buildings
: A stranded fisherman lit a fire on the Island to capture the attention of his fishing party. The fire spread through the grass and destroyed a nearby wharf and several other buildings.
1975Gallop's Island Becomes Part of First Urban Island Park
: Boston Harbor Island officially becomes the first urban island park on the eastern seaboard. Gallop's is one of the smallest Harbor islands. Department of Environmental Management (later called Department of Conservation and Recreation) manages Gallop's Island. Source (above information):
A Brief History of Gallops Island
additional sources:
United States Maritime School
(radio school, photos below from this site)
US Maritime Service School
---