as a famous corporate ad campaign puts it... "Membership has it's Benefits"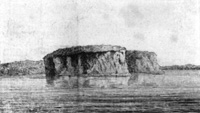 Becoming a member of the Friends provides the group with the bulk of our budget allowing us to pay for our programming on and off the islands, subsizing our boat trips, and paying for our very part-time office and volunteer coordinators. Our Board of Directors is 100% volunteer, and our 70+ volunteers are the on and off-island strength that keep us 'going'.
Membership includes discounts on our own
boat trips
to many islands that cannot be accessed without a private boat, sunset trips & tours to the islands (often after normal hours), and in 2012 a special 1-time only Tall Ships & Gray Lady (navy ships) tour of the harbor. Membership also includes discounts on our
books
including a special selection from Amazon.com,
clothing
and discounts with our partners
Admirals Hill
Marina,
Black Rock Sailing School
,
Boat US,
Boston's Best Cruises
(specialty cruises) and
Boston Harbor Cruises
(for tours of Boston Harbor, Whale Watch Tours, and Provincetown High-speed Ferry Service).
---