If you see someone on the islands in a blue shirt, chances are it's a Friend - say hello!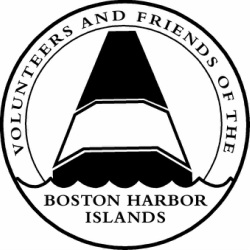 ---
---
---
ONLINE Auction

Click on the items below to bid via eBAY
(auction will extend until items are sold - or until April 30)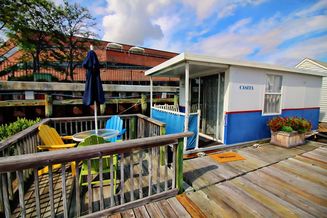 ​SOLD! 1-night stay at a Constitution Marina Bed & Breakfast Afloat Opportunity. Win a room for up to 2 persons just steps from Boston's Freedom Trail and next to the USS Constitution! Reservations required, not valid holiday weekends. ALL proceeds benefit the Friends of the Boston Harbor Islands. *photo is of one of the Bed & Breakfast locations at Constitution Marina and may not reflect the space available at time of reservation*

Thank you to Constitution Marina & Bed & Breakfast Afloat for this generous donation! SOLD!
---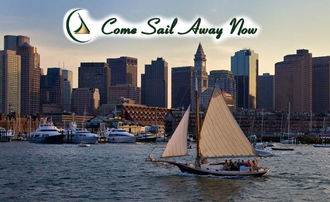 Click on the photo to bid on a cruise on the Friendship Sloop Tupelo Honey in Boston Harbor for 2 persons. Glide on the water while Boston's working waterfront and skyline are a treat for your eyes. Maybe you'll pass by a tanker or cargo ship and tug boats as they enter or leave the harbor - it's quite a sight to see! Some blackout dates apply.

​Thank you to the crew of Tupelo Honey & Come Sail Away Now for this generous gift!

---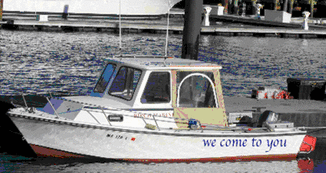 Click on the photo to bid on a gift certificate for up to $500 in boat repairs (parts not included) by Birch Marine. Birch Marine travels ONLY to you via boat to locations in Boston's INNER Harbor. Birch Marine does spring commissioning, fall shrink-wrapping as well as waxing, engine repairs, and a host of boat maintenance. ALL proceeds benefit the Friends of the Boston Harbor Islands.

​Thank you to Birch Marine for this generous donation!
---

​Click on the photo to bid on a night aboard the Green Turtle B&B in Boston Harbor at the NEW Charlestown Marina! Enjoy an amazing sunset perhaps, and watch the boats and ships float by with an amazing view of the Boston skyline. Certificate is for 1 night there is a weekend minimum stay of 2 nights, check in at 2pm, check out at 11am, 3 night minimum on holiday weekends, marathon weekend 4 night minimum. The Green Turtle I offers two private suites, Loggerhead (on the left) and Sea Turtle (on the right). Enjoy the comforts of a bed and breakfast and the privacy of a hotel suite. Each suite has a kitchenette and a private bathroom en suite. Breakfast is placed outside your room each morning.

​Thank you to the Green Turtle for their generous donation!
---

Click on the photo to bid on Afternoon Sail Around Boston Harbor
Item is a skippered weekday afternoon sail (approx. 12:30pm – 4pm) on a 44 foot sailboat, Kayla, around Boston Harbor for 4 people with lunch provided. Please Note: Due to insurance requirements, all sailing participants must be at least 14 years of age. Boat is docked at Constitution Marina in Charlestown

Sail takes place at a date that is mutually agreeable (usually between June and September, weather permitting) It is good for 1 year. The minimum bid is $800 ​Kayla is a custom designed yacht, available from Memorial Day through late September / early October. The Gozzard 44 MKII Ketch sailboat was commissioned in 2008. Kayla was featured in Ben Affleck's 2010 blockbuster, The Town.

Thank you to Larry and Valerie Post
​Click on the photo to bid on a Birthday Party and Invite 50 of Your Closest Friends!
Description and Guidelines: Item is a Birthday Party for 50 people with food, room, and DJ sound system included (cash bar) at the Point pub on Hanover Street in Boston at a mutually agreeable date. You can throw yourself a party or have one for a family member or friend! Please note: All attendees must be over 21 years of age. The Point is conveniently located at 147 Hanover Street in Boston's historic Haymarket Square.
Party takes place at a date that is mutually agreeable.

The winning bid is good for 1 year. Thank you to Larry and Valerie Post
---
PEDDOCKS ISLAND WINTER WANDER TRIP
FBHI Members get 20% off JOIN then CALL BHC for tickets 877-733-9425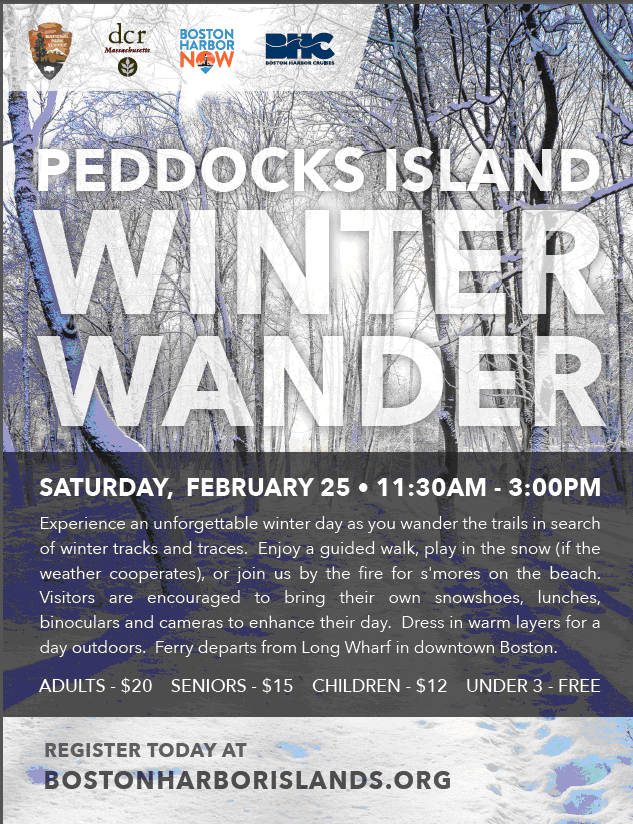 ---
INSTANT

Membership Online

YOU Can help the Friends of the Boston Islands every day with an easily budgetable donation. Donations will be withdrawn from your credit card for a 12 month period. Consider this wonderful and easy option! The Friends are truly a 'grass roots' organization, a donation from you goes a-long-way. Donors that donate using the 'subscription' method become members with all of our membership benefits. For the cost of just a pot or two of coffee, you can make a difference!

Thank you.
---
Books available for sale
Purchase the Newly reprinted Kings Handbook or the Lighthouse Family Books. Tax, Shipping and handling is included in the prices, order before December 16th for Christmas & we'll do our best to deliver! Books will also be available at events and the New Year's Day Boat Trip.
---
1969 Video of Boston Harbor restored
Through the efforts of Suzanne Gall Marsh & the UMass Archives a rare 1969 film showing Boston & many of the Harbor Islands has been restored and is available for viewing - click on any of the images below and prepare to be take back in time! The video is just over 18 minutes long. Enjoy!
---
You can virtually visit the Islands Online Year - Round with many photos of Thompson, Calf, Rainsford, Graves Light Station and Outer Brewster Islands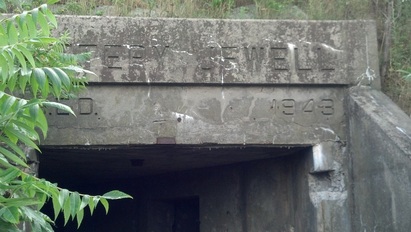 Can't make it out - or interested in seeing what you might see on one of our trips? Visit the islands online via photos by some of our Friends - Click on the island names below to start your journey!


---
---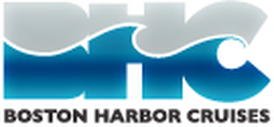 FBHI MEMBERS GET A
20% DISCOUNT
ON ALL
*
BOSTON HARBOR CRUISES TRIPS
. BHC has an extensive selection of trips including harbor tours, harbor island transportation, USS Constitution tours, Charles River & locks tours, high-speed Codzilla tour, and high speed ferries to Provincetown.
SEE THE WEB SITE
. FBHI members get this discount either on line or at the ticket booth.
*
" FBHI members with proof of membership will receive the Senior Rate when riding from Hull on the inter-island shuttle. There is no FBHI discount on the Hingham commuter/island boats because these are MBTA boats.
FBHI members going on Boston-based Boston Harbor Cruises excursions will continue to receive a 20% discount either online or at the ticket window with proof of membership.
---
---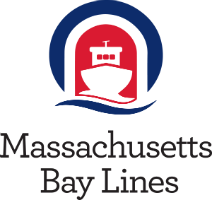 ​FBHI Members now get a
20% DISCOUNT
on
MASSACHUSETTS BAY LINES
Cruises including:
Amusement Cruises (comedy, dance & fun!), Harbor Tours and more! Your NEW FBHI Membership card will have the code to activate your discount.
---
---
VOLUNTEER!


Volunteer Job Descriptions have now been posted on our
Volunteer Page
. Interested? Check out the page, read the description and then complete the online form. And if you're a State Employee, you may be eligible to make use of
SERV
Time
.
---
---
---
Old Cell Phone?


Support the Friends by donating your old cell phone via
Cellphones For My Cause
. Cell phones contain heavy metals as well as precious metals and should not be land-filled or just thrown away. Help the environment, while helping the friends. Click on
Cellphones For My Cause
to learn how!
---