Boston Light Tours (by the National Park Service)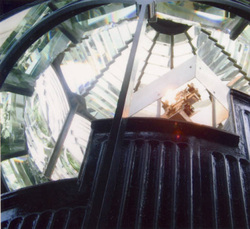 Join the Friends of the Boston Harbor Islands
and receive 25% off
Boston Light Tours in 2012
.
Learn more about Boston Light
CLICK HERE
To purchase Boston Light Tickets CLICK HERE

Join a National Park Service Ranger, for one of the most enjoyable tours that the Boston Harbor Islands National Park area has to offer! During this unforgettable adventure tour of Boston Light, you'll step directly from the boat into the past. Historic Little Brewster Island is located in the outer reaches of Boston Harbor providing unique views of the city and the surrounding waterways.
Established in 1716, the Boston Light is the first and oldest lighthouse station in the country. During the American Revolution, Boston Light was damaged by attacks of patriot militia, and later destroyed by British troops as they left Boston Harbor. The current tower was built in 1783 and is the last light station in the country to be staffed by a US Coast Guard light keeper.
During your ranger-guided adventure to Little Brewster Island, you'll enjoy:
* An exciting boat ride to the island, leaving from Boston and voyaging through the Harbor Islands national park area
* Chronicles of the maritime traditions of Boston Harbor and island life, past and present
* Views of the park's three lighthouses: Graves Light, Long Island Head Light, and Boston Light
* A tour of Little Brewster Island, where you'll meet the US Coast Guard light keeper, view the light station structures like the cistern and oil house, and climb the 76 steps to the top of the tower for a close up look at Boston Light's Fresnel lens
During your time on the island, you may want to enjoy a picnic lunch you brought along and take in the spectacular view of the harbor from its most recognized gateway. Explore the island's history, light tower and buildings or just relax and enjoy being on island time! (source:
Boston Harbor Islands
)
---